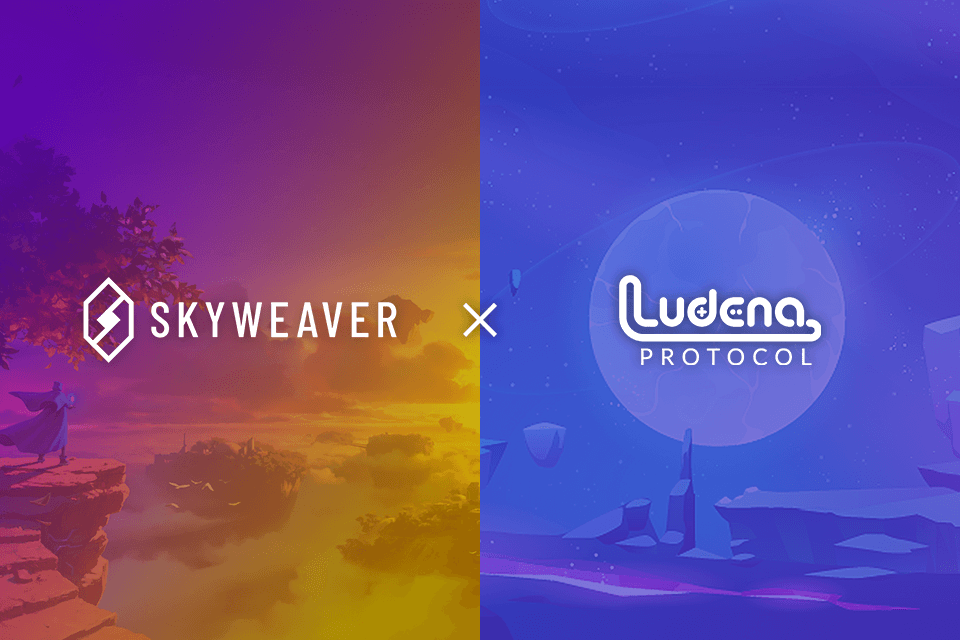 Skyweaver, one of the leading TCG blockchain game has been chosen by Ludena Protocol to expand its Guild and Play to Earn Metaverse. As a result, Ludena Protocol, Korea's largest play-to-earn (P2E) social gaming platform boasting over 3 million users, will now be able to interact and play the Skyweaver game.
Kenneth Lee, COO of Ludena Protocol, commented on the partnership,
"We've chosen Skyweaver for their fun and strategic gameplay, which will connect all of our P2E players and our Ludena Guild. Our active members, mostly based in Korea, have a passion for digital card games where they need constant challenge and stimulation, and I believe Skyweaver is the perfect candidate."
Skyweaver
Skyweaver, a digital card game, is best compared to Pokémon, or a sci-fi version of chess: colorful character cards face off on a virtual playing field. There are formidable opponents and plenty of strategic challenges. The twist is that while the game is free to join, skilled players who rank high on the leaderboards can win real tradable Silver cards in weekly Ranked Rewards, and for players who can win three games in a row during a Conquest run — they earn rare Gold cards. In addition, every single card in the game can be unlocked for free — all 500+ unique cards, the Base version, can be obtained simply by playing the game and leveling up. Hence, highly skilled players can unlock Silver and Gold.
Skyweaver is part of a growing trend in gaming: it incorporates blockchain technology in the form of non-fungible tokens. Skyweaver's NFTs, which are essentially digital certificates of ownership, give users the rights to cards and soon emotes, card backs, and even digital outfits — all of which would have been one-time purchases in the past. This means that users from Ludena Protocol in Korea don't just own pieces of their go-to games. They can actually collect the items, sell them, or gift them to friends — the choice is entirely theirs.
The long-awaited open beta for NFT's turn-based card game Skyweaver went live two months ago, following months of testing behind closed doors for a small number of players. Skyweaver is cross-platform and can be played on Windows, Mac, Linux mobile, and tablets.
Skyweaver is based on the Polygon network and was designed by Horizon Blockchain Games, a firm that also co-authored the ERC-1155 token standard. The game allows players to battle each other to collect and earn tokenized Silver and Gold cards in the game's Conquest Mode, which they can then exchange via the game's marketplace. Skyweaver's development team recently revealed the 2022 roadmap for the game a couple of weeks ago, which you can find here.
Through this strategic partnership, both companies will host an event where thousands of users from Ludena Protocol can receive free NFT drops and Token Drops for participating in Skyweaver games. This partnership event will be one of a kind as the synergies are powerful, and the willingness to reward users for playing this game is immense! In addition, both projects will work towards further expanding the Gamefi community and building a solid blockchain gaming-based metaverse.
Ludena Protocol's social gaming platform GameTalkTalk has more than 3 million active users and is continuously growing. They are currently working towards creating the biggest P2E metaverse by partnering up with P2E games to develop a P2E ecosystem. Ludena will be launching their NFT Marketplace next month with a collection of NFTs that can be used for the self-published P2E games scheduled to launch later this year called Kanimal Clash.
Furthermore, Ludena Guild which started with Axie Infinity and League of Kingdoms will add more P2E games to their Guild. So far there are 30 blockchain game partners who are willing to join and enter the Korean market. Through this P2E ecosystem and Ludena Guild, players will be able to earn real-life rewards from the games that they play.
Learn more about Skyweaver by visiting their website, and find out how to get started to play. Play the open beta at //play.skyweaver.net/ or download the game on mobile from Google Play Store or the App Store.
View original content : //medium.com